Linking up for Sunday Social. It is all about Spring...now, if only it felt like it outside!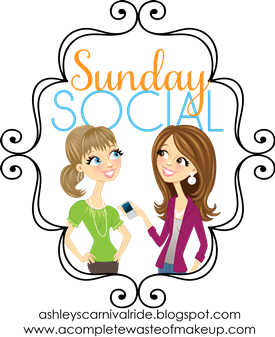 What is your favorite thing about Spring? I love having my windows open and seeing all the flowers blooming and trees starting to get leaves again. I also love having more daylight!
What is your favorite kind of flower to grow or receive?
I have a black thumb remember so I will not being growing any flowers! As for receiving, it would have to be roses (my wedding flower) and second would just be a bouquet of random flowers.
Like these beauties from my anniversary!
What is your favorite nail polish color?
I have so many favorites. I guess if I have to pick just one it would be any shade of pink. Essie colors are my favorite!
A favorite...Watermelon
What is your favorite outdoor activity?
Umm, I am not an outdoors kinda gal, haha! If I am outside it is either watching Logan play baseball in the summer or mowing the grass (on a riding mower that is).
Do you have any fun Spring plans? Details!
No big Spring plans. Logan and Abby are going to Disney with my parents in a week and I am going to use that time to do some Spring cleaning (does that count as Spring plans!?) and go through all their old toys, clean out a closet or two and organize some things here and there. What a mom's life I have, haha!
Have a great week everyone!!