Doing my first link up with
Paige
at A Dose of Paige for a little vent on social media.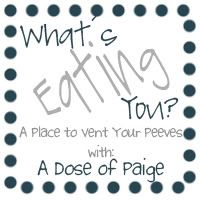 I only a have a few pet peeves but they drive me nuts...
people who get all political on FB. I mean I understand you have the right to your opinion but day after day gets a bit old.
those friends that always give you advice even though your post was not asking for it.
when Bloggers with a lot of followers treat us newbies feel like we are not on the same wave link. Come on now guys, you started out here too!
when someone follows your blog just to enter a giveaway then unfollows after the giveaway is over and they didn't win. Totally uncool!
I am sure if I sat here all day I could come up with more but those are the ones that are on my mind so they must be the most important ones, right?!
I leave you to have a great week with this picture of my three sweeties! :)