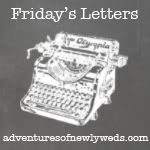 I only have one letter today...
Dear my wonderful, amazing, and loving husband of 10 yrs,
Today marks 10 years that we have been married. I cannot imagine my life without you. You are without a doubt the rock in our marriage and family. Thank you for everything you do to give the kids and I everything we have. You are truly one of a kinda and even though we joke about it, I do honestly believe they broke the mold when they made you. I love you so very much and can't wait to celebrate many more years with you!